LED Power Indicator Lamps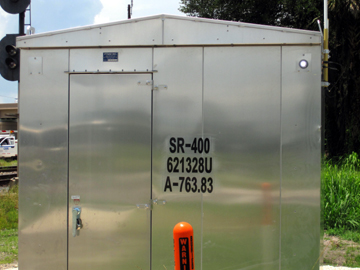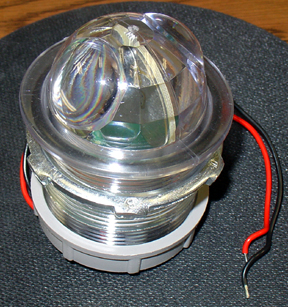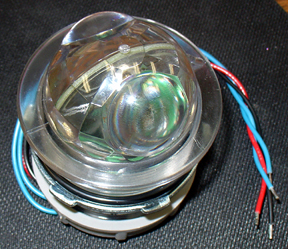 Our indicator lamps have developed into one of Velcorp Gems most requested and widely utilized products.

Typically used on Bungalows to indicate AC power on condition

, the indicator will flash when AC power is off. The Model WR (2 wire) indicates 12VDC power off. Because of its efficient, dependable operation they have been well received in the rail industry. They come in varying configurations to meet the various needs and requirements of any potential site.
Part Number designation:
WB (4 wire) indicates AC Power ON (Steady on LED), and AC Power OFF (Flashing LED)
WR (2 wire) indicates DC Power ON (Steady on LED), and DC Power OFF (LED Off)
WD (4 wire) indicates AC Power ON (Light off LED), and AC Power OFF (Flashing LED)

BM (4 wire and 2 wire) DC Battery Monitor Operation below 11 VDC for Models WB/WD/WR


IL-LC2-PO-FOI-( )
LED Indicator Electronics
Board, Vertical,
Programmable, 4 wire,
with Wago Connector,
for Models WB and WD,
White, Yellow, Blue,
Red, Green LEDs



LC2-005WD
Power Indicator, 4 wire,
2 Eye, Pigtails, White LEDs

LC2-001WB-( )
Power Indicator, 2 Eye,
4 Wire, Pigtail, White,
Red, Blue,Yellow LEDs





LC2-001WB-WG4


Power Indicator, 2 Eye,
4 Wire, Wago Connector,
White LEDs





LC2-005WD-WG4


Power Indicator, 4 wire,
2 Eye, Wago Connector,
White LEDs


LC2-LPI-2WR-( )
LED Indicator Electronics
Board, Vertical, 2 wire,
Subassembly of
LC2-002WR-LA- ( )
Available colors: Red, Yellow,
Green, Blue, White

LC2-002WR-LA-( )
Power Indicator, 2 Eye,
2 Wire Pigtail,
DC Operation,
White, Yellow, Blue,
or Red LEDs

LC-1EY-HGS-W
Indicator Horizontal,
1 eye, White LEDs














LC2-BM

-WB/WD
Power Indicator AC, Battery Monitor,
2 Eye, 4 wire


LC2-BM

-WR
Power Indicator DC, Battery Monitor,
2 Eye, 2 wire












CALL FOR PRICING 904-230-2840
VELCORP GEMS
1293 Energy Cove Ct.
Green Cove Springs, Florida 32043
Office: 904-230-2840
FAX: 904-230-2938
Email: rrlights@velcorpgems.net