Gemstar Bayonet Socket LED Lamp for Railroad Signal Lights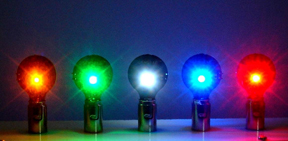 VERTICAL AND HORIZONTAL POSITION LED bayonet lights, LOW ENERGY, 50,000 HOUR LIFETIME, HIGH BRIGHTNESS, AVAILABLE IN GREEN, YELLOW, RED, WHITE AND BLUE.
The GemStar« LED is a product designed as a 1 for 1 replacement for a standard 12 volt bayonet based incandescent lamp. Bayonet style: BA15S, BA15D, BAY15S and BAY15D. The vertical LED lamp can be ordered as a one sided or two sided unit with the desired bayonet base. The GemStar« is a 1 watt for single sided LED, and 2 watt for double sided LED, designed to operate in a range of 8.5 to 40 volts AC/DC. This long life, energy efficient LED has an expected life of 50,000 to 100,000 operating hours if the unit is operated properly within the design characteristics. The LED lamps are designed as a retrofit product for various rail road signal and lamp applications. When retrofitting special attention and care should be taken in addressing focal point and alignment for best results. If needed VELCORP assistance should be requested. These LEDs are available in RED, YELLOW (Amber), BLUE, GREEN, AND WHITE. They also can be ordered in a 90║ off Horizontal and in a 90║/30║ version adapted to signal with a canted socket head.

NOTE (1): when ordering dual socket please designate whether BA15 socket or BAY15 socket with offset pins is required.


GS-1( ) single sided LED,
single contact base


GS-2( ) double sided LED,
single contact base


GS-1( )-DC, 1 side, or
GS-2( )-DC, 2 side, LED,
dual contact base


HGS-( ), Horizontal LED,
single contact base


HGS-( )-DC, Horizontal LED,
dual contact base



SAMPLE DRAWINGS - see above NOTE (1)
:
GS1-1( ) single side, single contact bayonet base (BA15S shown)

GS1-2( ) double sided, single contact bayonet base (BA15S shown)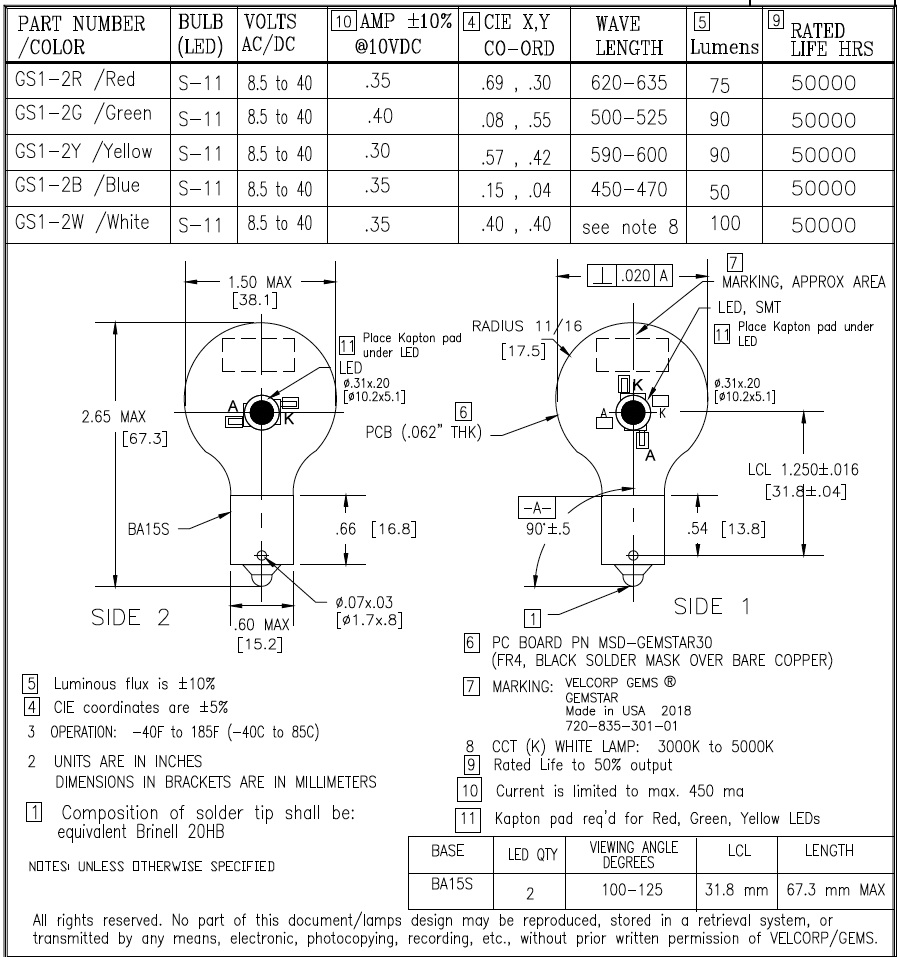 GS-2( )-DC double sided, dual contact bayonet base (BAY15D shown)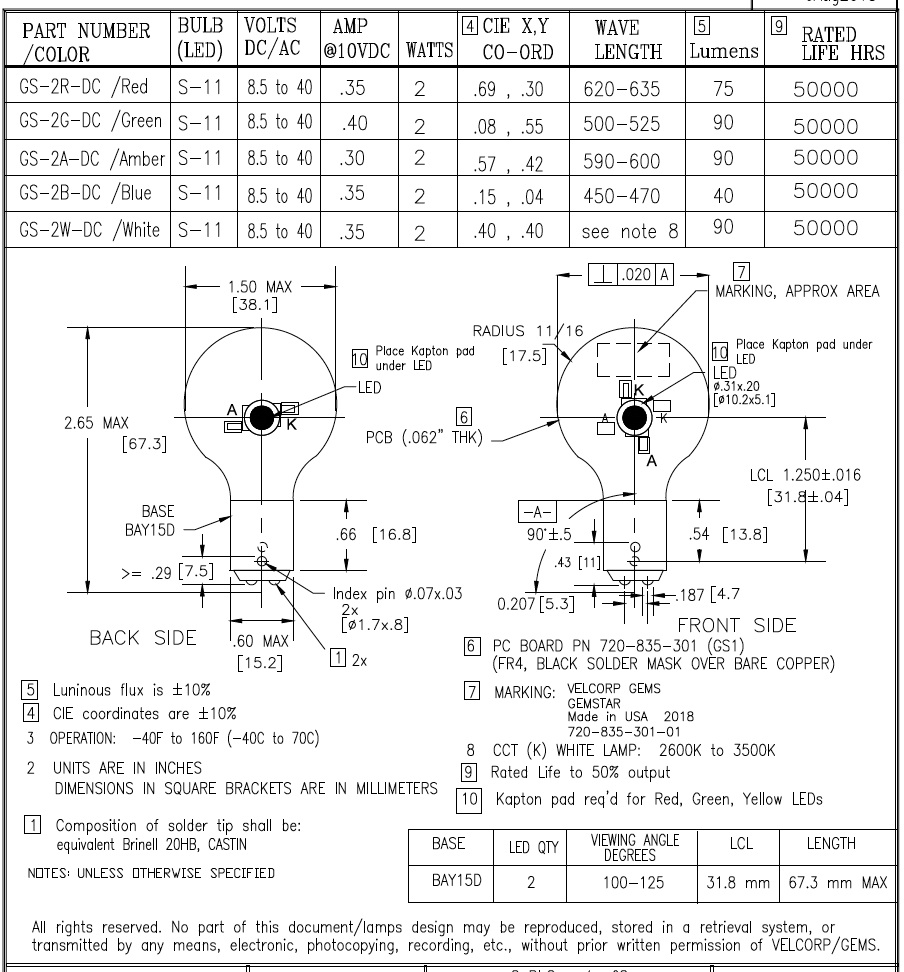 GS-2( )-DC double sided, dual contact bayonet base (BA15D shown
)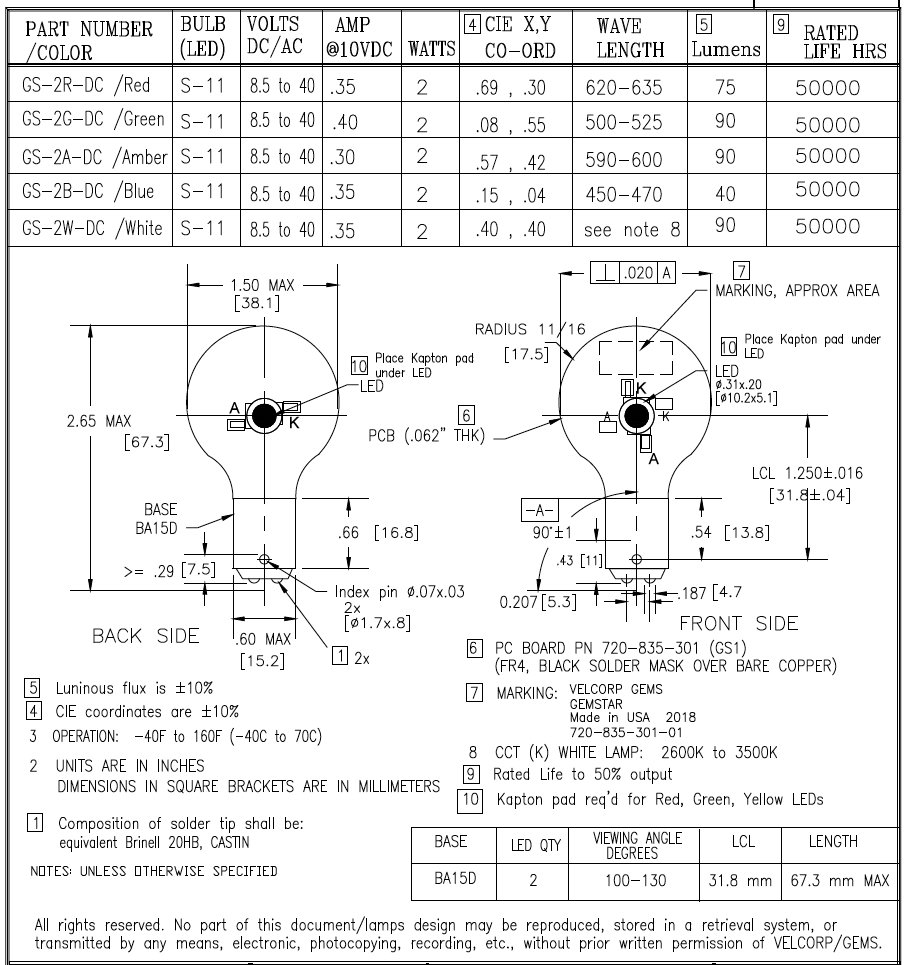 HGS-( ) Horizontal Gemstar, single contact base (BA15S shown)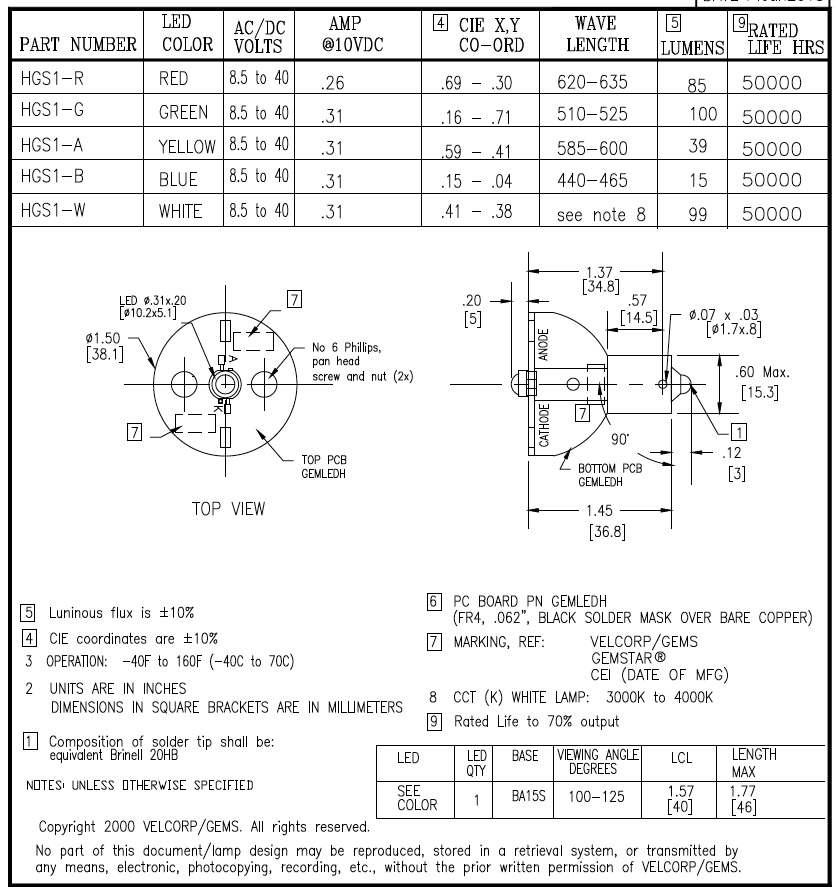 HGS-( )-DC Horizontal Gemstar, dual contact base (BA15D shown)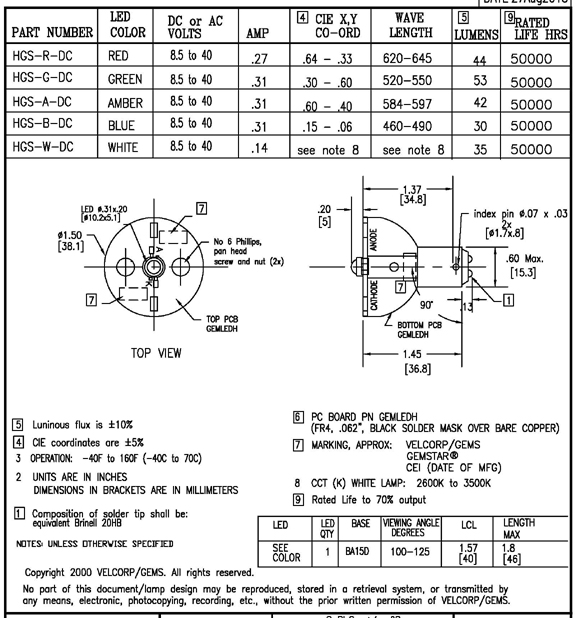 CALL FOR PRICING 904-230-2840
VELCORP GEMS
1293 Energy Cove Ct.
Green Cove Springs, Florida 32043
Office: 904-230-2840
FAX: 904-230-2938
Email:
rrlights@velcorpgems.net